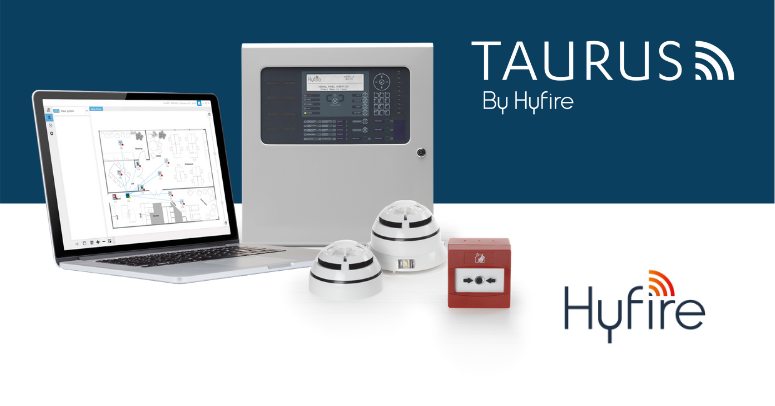 Our wireless partner Hyfire has just announced the release of Taurus, a completely new high-performance wireless system, based on a new protocol that offers unprecedented capabilities, quality and reliability. Combining unrivalled performance with the user-friendly survey, install, commissioning and maintenance software, TauREX, Taurus brings a step-change to the wireless sector.
New features and innovative technologies are at the heart of the new wireless product line, ensuring incredible system performance and superior reliability.
Key features and benefits:
The Taurus wireless platform can easily answer the needs of both small-medium or large sites, handling up to 128 devices per wireless translator and 240 per hybrid loop, with a 10-year battery life on input and five years on output devices.
Taurus uses Hyfire NetworkOptimiser technology, with 60 communications channels to avoid interference and channel collisions, regardless to the extent of the fire network or the scale of the building.
Every Taurus device features Hyfire SafeSwitch dual redundant channel technology, so if one channel fails, the other automatically takes over, ensuring unprecedented levels of reliability and performance.
The key to any successful wireless fire system is design and specification, which is why Hyfire has developed the bespoke TauREX software, which features a user-friendly graphical user interface and innovative new functions, such as EasyScan and ConfigWizard, to help specify the optimum Taurus system for each site in a simple and intuitive way.
Taurus delivers unprecedented system reliability and performance using SafePath Mesh Expander Technology. If any expander in the chain fails, the transmission path uses an alternate route, ensuring communication continuity.
Tom Crane, Hyfire Business Unit Director, commented: "The popularity of wireless fire technology has grown exponentially over the last decade and, with the launch of Taurus, we are effectively putting to bed the traditional wireless versus wired debate. Put simply, the Taurus range offers all of the advantages traditionally associated with wireless, such as convenience, rapid install and simplified system specification, and adds performance that will not only equal traditional wired systems, but exceed them in most areas."
Brendan Stamp, Managing Director of Guardian Fire & Safety added " We have worked closely with Hyfire on a number of wireless projects over the past years and this latest announcement is great news for the Irish Market. We look forward to bringing Taurus to our clients"
If you have an upcoming project, why not talk to us today. Contact us on 051 448774 or by email on info@guardianfire.ie