The four star Brandon House Hotel and Solas Croí Eco Spa is a country manor house conveniently situated on the N25 in historical New Ross, nestled between Wexford and Waterford. The hotel boasts 78 Bedrooms, 4 dedicated Conference rooms, including the Kennedy Suite which can accommodate up to 300 people.
We find the service we receive from Guardian Fire & Safety to be of the highest quality. Engineers visiting the hotel always take the utmost care and consideration not to disturb our guests.Whenever we have had to put in a call, they are prompt and efficient in their response and action.The team take great pride in their work. In our business, effective communication is key as we operate 24 hours a day. The team at Guardian operate a seamless communications structure and this makes them very easy for us to work with.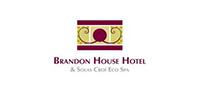 Brandon House Hotel, New Ross, Co. Wexford.