Fire Safety signage should be prominently installed in key locations to provide clear instructions to all staff, customers and visitors in the event of fire or evacuation. Fire safety signage can also provide vital information to many different groups of people, especially those who may not be familiar with a building and may not be on site long e.g. the emergency services (at entrances), hotel guests, day visitors, patrons of theatres, venues, shopping centres, etc. Signage is especially effective at highlighting the nearest emergency exit in complex buildings and can ensure that people do not cause congestion by travelling towards main entrances or further away exit doors.
What we do:
We can supply and equip your premises with the mandatory fire safety signage required to meet your obligations under Health & Safety law. One of team can visit your premises to carry out an assessment and discuss your needs.
Our range includes:
Fire Extinguisher & Fire Blanket identification signs
Fire Hose signs
Fire Alarm call point signs
Fire Action signs
Fire Door signs
Fire Exit/Escape route signs
Push Bar To Open signs
Assembly Point signs
Fire Alarm Zone plans
Evacuation/Escape plans
We can provide standard signs and photoluminescent signs in a range of sizes as well as a choice of high end acrylic glass and brushed steel options where aesthetics is a concern.
Our Everlux Evacuation/Escape Plans in a 200×300 format are appropriate for apartments, hotel rooms, guest house rooms, and care homes providing information of escape routes, location of fire equipment and safety instructions for guests and occupants.
Evacuation/Escape Plans are a fundamental complement to safety signs. They illustrate the escape route and building layout and help to educate users of a building in the correct actions to adopt in an emergency situation.
Escape Plans are intended to be located at strategic points of the escape route:
On every floor at primary entry points to the building;
Halls, corridors, near lifts and stairs;
In every room, e.g. hotel rooms;
At appropriate congregation points, e.g. cafeterias,
office centres, meeting rooms, etc
At principal junctions and intersections.
Now available in 3D. Using state of the art software, we are able to render 2D drawings into 3D plans that show all salient details with even greater clarity. The 3D viewpoint allows the observer to orientate themselves and identify key information far more readily than traditional 2D plans.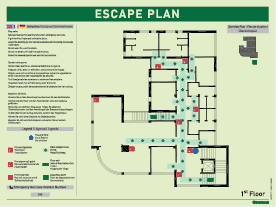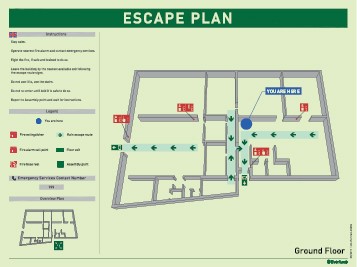 Contact our dedicated team today for a friendly no obligation quotation