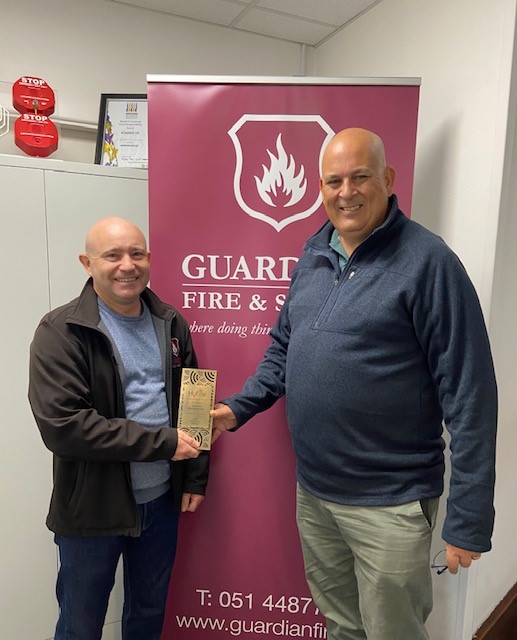 What a way to kickstart our week! It was a pleasure to welcome Hyfire's Regional Sales Manager, Chris McGregor to Guardian HQ this Monday morning … and he didn't come empty handed! On behalf of the team, our M.D. Brendan Stamp accepted a lovely token to acknowledge our work as a Certified Systems Partner.
A member of the Hyfire network of accredited partners since 2019, Guardian Fire & Safety has worked closely with Hyfire on a number of key fire safety projects on the island of Ireland over the past 3 years with the wireless system offering a unique solution to the most demanding of applications.
Commenting on this morning's presentation, M.D. Brendan Stamp said:
" Despite the challenges of Covid -19, it has been an exciting couple of years working with Hyfire. In fact, in our post pandemic world , Hyfire is an ideal solution as it provides a very fast and flexible offering with huge benefits to both installer and client. Hyfire Wireless Fire Solutions has allowed us to deliver the most up to date technologies without the need for several engineers onsite, reducing installation times and disruption to clients. Its a win – win!  We look forward to further developing our relationship with Hyfire and working together for many years to come"
If you have a project in the pipeline, why not get in touch for a no obligation quotation.